Solar tanks – The original Swiss Solartank®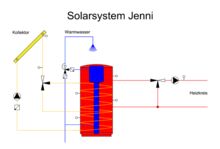 Most of our tanks are constructed for the use as part of a thermal solar energy installation. All across Europe, we are known for the Swiss Solartanks®. The way we install solar plants for heaters and hot water has become a worldwide standard. They consist of differet elements which all lead to an efficient, well-working installation:
Pressure resistant, cylindrical tank made of steel 37 (general working pressure of 3 bar)
Integrated boiler of chrome-nickel-molybdenum steel (material-nr. 1.4435)
Integrated heat exchangers to connect to the solar collectors (one-stage or two-stage for more solar power and faster reactions)
Pressure resistant, cylindrical tank made of steel 37 (general working pressure of 3 bar)
Individual placement of the connections according to the system type
Insulation with aluminium-covered glass wool mats with plastic cleading or wire netting
Best mark in «stratification efficiency of combi storage tanks»
Installed fitting groups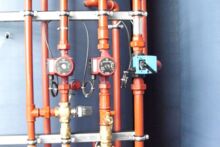 Factory-insulated solar tanks with pre-installed fitting groups simplify the installation and allow the tank to work efficiently.

Control units: JenniControl, Opticontrol and Minicontrol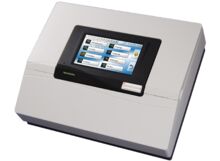 With a Swiss Solartank and a Jenni control unit you have the optimal combination for a strong solar plant.


Consultations
We provide advice where and how to install the energy tanks (dimensions of the tank, integration in the system, definition of the boiler, choice and position of the fittings, required insulation etc.). Our experience is based on production and installation of more than 15'000 tanks as well as numerous tests in our laboratory with tanks, boilers, heat exchangers, fittings and insulations.
Short delivery times
Our standard tanks are available from stock. Custom-built tanks take between 2 and 4 weeks, depending on the season.
Transport
In Switzerland, we deliver the tanks directly by truck to the building site. If you require help with the installation, we will assist you with the needed tools.
Deliveries to other places can be organised with one of our logistic partners.
Warranty
Under the condition of right handling we give a warranty of 2 years and 5 years if the Jenni security groups are being used.
If you have any further questions, please do not hesitate to contact us.
Sorry, item "toplink-en" does not exist.